IN-PERSON SALES CONTINUE
Join us at our facility this Wednesday
We at Dealers Auto Auction of the Southwest care about the safety of our customers, staff and community. Our team is taking all the necessary precautions and following state and federal regulations, to ensure our partners feel comfortable walking through our doors. We will continue to safely move you forward with the best auction experience you have come to expect from us.
We understand that some may not feel comfortable coming to our location, and that's okay, we will continue to offer the same great buying experience through our online sale feature. To register online, please call one of our dedicated team members at 602-253-7766 or 855-469-7272 Ext 717.
We will continue to monitor our state and federal guidelines and keep our community updated.
Thank you for being a valued partner with Dealers Auto Auction of the Southwest.
WE'RE DIGITAL TOO!
If you prefer to attend our sale online, please join us at daasw.com.
Need help getting set up? Call Tracey Murray at: 602-253-7766 or Online Support: 855-469-7272 Ext 717

NO SALE FEES
Starting June 2, 2021 every no sale will be charged
a $25 no sale fee.
AVC Dealer App
Use the AVC Dealer app to track your Post Sale/Arbitration needs in Real-Time
Speak to a team member for more information or

click here

.
Purchase or Sell inventory at anytime with OVE
Contact our OVE representative, Bianca Alvarez at 602.368.6284
or click here for more information.

NEW OFFSITE LOT
Located approximately 3 miles from our main facility, our new lot address is
2240 S. 35th Ave.
Phoenix, AZ 85009
All sold inventory will be moved to this location the Monday following each sale at the buyer's expense ($50).
A $10 per day fee starts on day 6
Direct any questions to our sales department.
Lot Hours:
Monday and Tuesday: 10 a.m. - 7 p.m.
Wednesday - Saturday: 8 a.m. - 4:30 p.m.
Sunday: CLOSED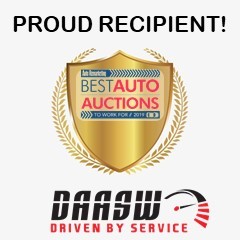 Dealers Auto Auction of the Southwest was awarded one of the top 25 Best Auctions to work for in 2019!
Click here for details!
We may be over 800 miles apart, but our award-winning auctions are side-by-side
when it comes to great service.
As our partners, you have experienced our personal and professional service here in Phoenix.
You can also join our Denver Auction every Thursday.
Their team is our team, and with a combined 40+ years in the business, we've got the right kind of mileage:
EXPERIENCE.
Check out Dealer Aucton Auction of the Rockies online:

DAAROCKIES.com